AI for Online Course Creators: How Creators Can Use AI To Grow a Business
9 minute read
There are a million ways you can use AI in business. One of them is using AI to create and sell online courses.
In this article, we will cover the different AI use cases for course creation, and all the best AI tools you can use to create and market an online course.
Best Practices to Use AI The Right Way
Before we get into using AI for course creators, it is important to highlight a few best practices and rules when it comes to working with artificial intelligence tools.
Using AI can help you save time and work when creating content. However, learning how to use AI effectively is important to avoid any negative impact on your business.
Before using AI for content creation, addressing ethical concerns and potential real-life consequences is crucial.
Here are some simple tips for using AI the right way:
Learn Your AI Tool: Understand how AI works and its capabilities, and learn how the AI tools you are using work. This helps you choose the right tool for your needs and ensures ethical and useful results.
Set Clear Goals: Clearly define your content creation goals, audience, and objectives. This guides the AI in producing relevant content.
Craft The Right Prompts: Provide detailed instructions to the AI in your prompts, including offering context and specific guidelines. Open-ended questions often yield better results.
Use AI as a Starting Point: Treat AI-generated content as inspiration or a baseline for your own original content. Customize it to reflect your brand and perspective.
Avoid Plagiarism: Do not simply copy-paste what AI generates, and check AI-generated content for unintentional similarities with existing works. Editing and verification tools can help ensure originality and avoid copyright issues.
These tips will help you make the most of AI in your content creation process. For more information about this topic, check out this article from our blog: AI Best Practices for Creating Content The Right Way
AI Use Cases for Online Course Creators
Now that you know how to use AI the right way, let's see how course creators can leverage artificial intelligence in their business processes.
Being an online course creator means that you are wearing many different hats, and have many different jobs to perform every day. If you are a solopreneur, you are most likely the business owner, marketing manager, customer satisfaction agent, sales representative, accountant, etc. All at the same time!
It is practically impossible to excel in all of these subjects at once, so it is natural that you need a little help.
While you might not be able to afford to hiring a whole team of people, AI can help.
Tools like ChatGPT are powerful natural language processing models that can engage in natural conversations on a variety of topics. While ChatGPT can be useful for many course creation tasks, it wasn't specifically designed for creating online courses.
To better cater to online course creators, Heights Platform has developed Heights AI.
With this AI tool, you can streamline the process of building your online course, gain insights into marketing and course creation, automate manual tasks, and even receive personalized coaching to kick-start your business.
Heights AI can do many different things, from creating online courses for you to being your own virtual assistant to improving your website's SEO.
Let's see everything that Heights AI can do:
Create an Online Course in Minutes: You can start by providing a course title, and the AI will generate a course outline, description, and even create the online course itself within your Heights account. It even selects a relevant cover image.
The AI Becomes Your Personal VA: You can tell the AI to perform certain tasks for you, for example, changing the price of your course, publishing your landing page... etc. And the AI instantly makes these changes in your account.
Personalized AI Coaching: The AI Coach is another artificial intelligence developed by Heights Platform (we will talk more about this later). The AI continuously analyzes your business situation, allowing you to share your goals, challenges, and ideas. It then creates a personalized action plan tailored to your needs, providing you with weekly tasks to grow your business.
AI Chat to Learn About Course Creation and Using Heights: Engage in real-time conversations with the AI to ask questions about course creation, marketing, and platform usage.
SEO Optimization: Let the AI review your website and optimize your pages for better search engine visibility.
Heights AI serves as your AI course creator and co-pilot assistant, making online course creation easier, quicker and more fun!
Related articles:
So, let's see how online course creators can get their whole AI team and automate their business with artificial intelligence.
How to Create an Online Course With AI
The first use case we talk about today is the main job of the online course creator: building courses! And yes, you can make this process quicker and easier with the help of AI.
Before we mentioned the Heights AI, the best AI tool for online course creators and coaches.
So now, let's deep dive into the first use case of this artificial intelligence tool: creating an online course for you.
To get started, you simply write your course idea or title into the system.
Heights AI then springs into action, providing you with a range of valuable tools and guidance.
First, the AI evaluates your course title and offers recommendations to make it more enticing and SEO-friendly. It might suggest specific improvements or emotionally engaging titles based on its analysis.
Next, the AI generates a course outline, complete with lessons and modules.
This outline serves as the roadmap for your course, helping you structure your content and ensuring a cohesive learning experience for your students. You can either use this generated outline as-is or customize it to better suit your vision.
Once you have your course structure in place, the AI assists you in crafting a compelling course description.
This marketing description is crucial for attracting potential students and should address their key questions and concerns. With the AI's help, you can ensure that your course description is clear, informative, and persuasive.
What's more, Heights AI can automate the actual course creation process for you.
It takes the course outline and description you've refined and generates the online course content right within your Heights account. This includes lesson materials and even a cover image, saving you so much time and manual effort.
By using Heights AI, you can bring your online course concept to life in a matter of minutes, saving you hours of manual work.
It simplifies each step of the course creation journey, from title optimization to content generation, ultimately helping you create a compelling and marketable online course.
AI as a Personal Assistant
Another super important use case of AI is to perform actions on your behalf, like a virtual or personal assistant!
Not many AI tools are able to do this, but the Heights AI can. Here is how it works.
Heights AI looks like a chat where you can converse with the AI as if it was a member of your team. You can ask the AI questions to learn about course creation, marketing campaigns or how to use Heights Platform.
And you can also give commands to the AI!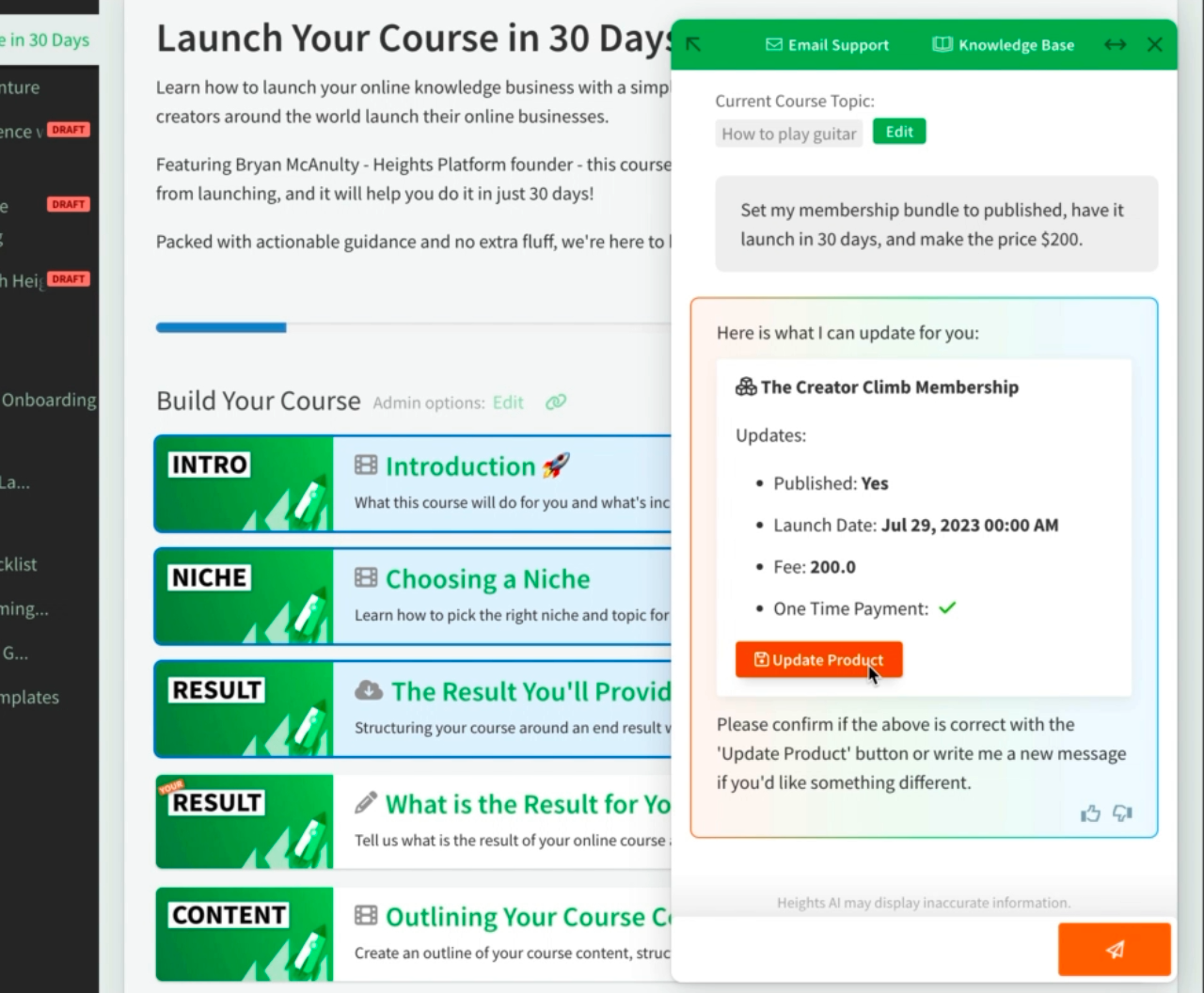 So for example, you could tell the AI to:
"Change my online course price to $200 and publish the course"
"Publish the landing page of my photography course"
"Come up with a description for my Yoga course and set it as its description"
"Change the title of my membership to Intro to Playing the Piano"
After you give your command, the AI will send you a message to confirm the action you want to perform, and if it looks good to you, you can go ahead and allow it.
The AI instantly makes these changes to your account, saving so much time in manual work or in learning how to use the platform.
Instead of paying for a virtual assistant, AI can now perform tasks for you!
AI as Your Business Coach
Have you ever wished that you could afford to hire those super-expensive coaches and experts to help you launch your business and tell you exactly what you need to know?
Well, AI can do that now!
AI can be your helpful mentor through a tool called AI Coach by Heights Platform.
We have already seen many parts of the Heights AI. Heights AI Coach is another feature that Heights creators get in their accounts (Pro plan & up).
This tool works like having a coach or mentor inside your Heights Platform account.
Each user gets their own AI coach. You start by chatting with the AI coach about your business goals and challenges.
The AI coach then analyzes your situation and creates a personalized plan for you.
Unlike other AI tools, you don't need to constantly give instructions; it operates automatically. Your AI coach provides you with new tasks and plans every week based on your progress and goals.
You can share your problems, successes, main business objectives, and short and long-term plans with the coach. Using this information, Heights AI Coach offers weekly tasks, tips, and ideas to help your business grow.
The best part is that Heights AI Coach is included free with the Heights Platform Pro Plan!
Learn About Course Creation With AI
Another great way to use Heights AI is through its chat feature, which allows you to ask questions and seek guidance on various topics such as creating an online course, promoting your business, or using Heights Platform.
The chat feature of Heights AI serves as a valuable tool that provides creators with immediate coaching and support.
You can ask about a wide range of subjects, whether it's about marketing your course, validating your ideas, or even making simple adjustments like changing your profile picture.
Heights AI has the capacity to assist with thousands of potential questions!
How to Use AI to Improve Website SEO
One of the latest features of Heights AI is an SEO review tool for your website pages.
If you didn't already know, Heights Platform allows you to create a complete website for your business with an unlimited number of pages. This is made possible through the Web Page Builder, a tool within Heights Platform that enables you to create and publish website pages without requiring any coding skills.
You can build your entire website using the Web Page Builder, eliminating the need for additional web design tools and extra costs. With its user-friendly drag-and-drop editor and a selection of ready-made templates, you can easily create visually appealing websites.
This feature is accessible to users with Pro and Academy plans, allowing you to create an unlimited number of web pages and host your website through Heights Platform.
To enhance your website's visibility on Google and make it more discoverable to potential clients, SEO (Search Engine Optimization) is crucial. Heights AI can assist you with SEO within the Web Page Builder.
The Heights AI evaluates your In-Page SEO and provides recommendations for improving it to achieve better search engine results.
The AI first identifies the page's topic and suggests relevant keywords. Next, it offers recommendations for improving H1 and H2 tags, crucial elements for SEO optimization.
Lastly, the AI evaluates the page's length for SEO purposes.
Heights AI's SEO review tool can help you optimize your website pages for better search engine rankings and increased visibility to potential clients.
How to Use AI to Promote Your Online Course
Marketing is a bog part of creating and selling an online course. So naturally, many course creators want to know how AI can help them with their marketing efforts.
You can leverage AI in many ways to promote your courses and grow your business. Here are a few key strategies to use AI in marketing:
Personalized Marketing Plans
AI can help online course creators develop personalized marketing plans.
One example of a tool you can use is Heights AI Coach (already discussed before), which analyzes a creator's business situation and goals to generate a tailored marketing strategy.
Creators can communicate their objectives and challenges to the AI coach, which then provides customized tasks and recommendations for business growth. This approach ensures that marketing efforts align with specific needs and objectives.
Content Creation
AI can simplify content creation, which is crucial for marketing. AI-powered tools, like ChatGPT, can enhance marketing copy by suggesting improvements and generating persuasive text.
This is especially useful for crafting compelling course descriptions, blog posts, email marketing campaigns, and social media content. AI can assist creators in maintaining a consistent and engaging online presence.
Data Analysis for Informed Marketing Decisions
ChatGPT and other AI tools can help identify patterns, trends, and insights within customer data.
Creators can use this information to refine their marketing approaches and make data-driven decisions.
We talk more about how you can use artificial intelligence in marketing in this article from our blog: How to Use AI in Marketing an Online Business
Create Your Online Course With AI Today
The world of online business and digital marketing is evolving rapidly with the advent of AI technologies, and this includes the online course creation industry.
There is one AI tool that stands out from the rest: Heights AI.
Heights AI is a tool designed specifically to empower online course creators and coaches.
With Heights AI, you can revolutionize your course creation process, automate tasks, and even receive personalized coaching!
Whether it's generating course content, serving as a virtual assistant, or acting as your business coach, Heights AI offers a range of capabilities to simplify and automate your online course journey.
Try it for yourself, by creating your Heights Platform free account today!
Create Your Online Course Today